PARASTOU FOROUHAR, geboren 1962 in Teheran, Iran
lebt und arbeitet seit 1991 in Deutschland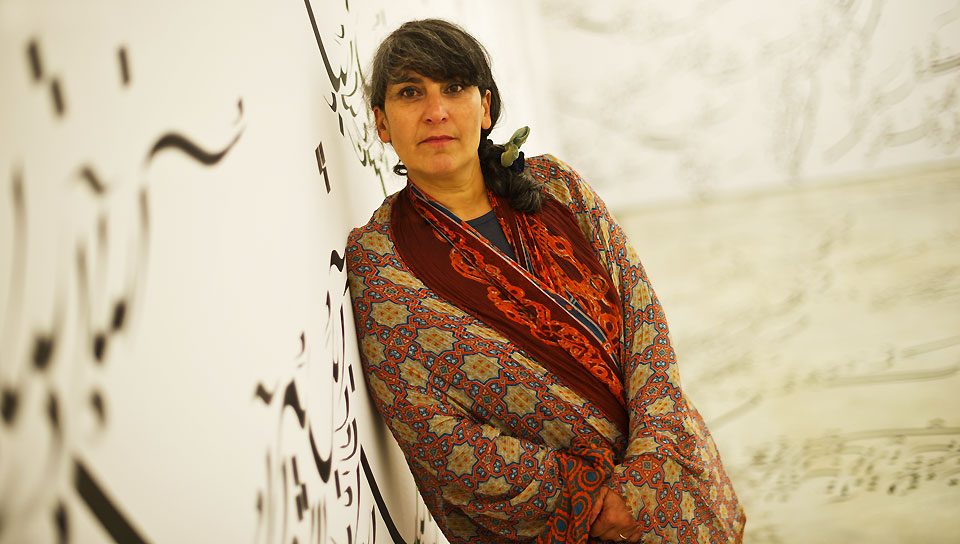 1984-1990 Kunststudium an der Universität Teheran
1992-1994 Aufbaustudium an der Hochschule für Gestaltung, Offenbach
1995-2000 Mitglied des Kunstprojektes Fahrradhalle, Offenbach
2001 Reisestipendium der Hessischen Kulturstiftung
Arbeitsstipendium der Stiftung Kunstfonds
2004 Stipendium des Künstlerhaus Schloss Balmoral, Bad Ems
2005 Atelierstipendium Gertrude Contemporary Art Spaces, Melbourne
         Khoj, internationaler Künstlerworkshop, Mumbai
2006 Co-Kuratorin, Treibsand, Zeitgenössische Kunst in Teheran
         Stipendium der Villa Massimo, Rom
2007 Kulturaustauschstipendium des Landes Berlin für Istanbul
2012 Co-Kuratorin, Omid ist mein Name, JBS Anne Frank, Frankfurt a.M.
         Sophie von La Roche-Preis der Stadt Offenbach
2015 Arbeitsstipendium des Brodsky Center, Rutgers University, New Jersey
2017 Stipendium der Künstlerresidenz Chretzeturm, Stein am Rhein
2019 Prof. der Gutenberg-Research-Fellowship Klasse für Freie Kunst,   Kunsthochschule Mainz
2022 Schirmherrin der Tage des Exils Frankfurt
Grundungsmitglied des Kollekives "Art-Cultur-Action"
Einzelausstellungen – Auswahl

2022-23 Schmetterling erbeutet!, Badisches Landesmuseum, Karlsruhe
         One Step, Kunsthalle Göppingen
2021 Limbo, Karin Sachs Galerie, München
2020 Written Room, Kunst am Bau Projekt, Chur
Boxenstopp, Kunstkasten, Schaffhausen
Parastou Forouhar in Kunstverein Ettlingen
2019 Deadlines, Stadtgalerie Saarbrücken
         Written Room, Werkbund, Frankfurt
2018 Im Zeichen des Ornaments, Kunsthalle Göppingen
         Vor aller Augen, Epiphaniaskirche, Frankfurt
         Written Room, Apotheke: Ausstellungsraum der Kunsthochschule Mainz
2017 Das Gras ist grün, der Himmel ist blau, und sie ist schwarz …,
Museum Lindwurm, Stein am Rhein
         Umkämpfte Erinnerungen, JBS Anne Frank, Frankfurt a.M.
         Written Room, Pi Artworks, Istanbul
         Written Room, Museum voor Schone Kunsten, Gent
2016 Written Room, Pi Artworks, London

2015 Reimaging the Illusion, Pi Artworks, London
         Das belastete Papier, Hinterland Galerie, Wien
Neue Arbeiten, Galerie Perpetual, Frankfurt a.M.

         Neue Arbeiten, Galerie Karin Sachs, München
2014 Body Letter,Taswir Projects (El Greco Jahr 2014), Toledo
         Repeating Patterns of Mrs. P., Azad Art Gallery, Teheran
         Kiss Me, Rose Issa Projects, London
2013 He Kills Me, He Kills Me Not II, Städtische Galerie Neunkirchen
         Der Schmerz hat ein feineres Zeitmaß, Evangelische Akademie, Frankfurt 
         Ornament and Crime, Gallery of Macalester College, St. Paul
         Die Poesie der ungeliebten Wahrnehmung, Kunst Galerie Fürth
2012 Kein Heimspiel, Kunst-Raum-Akademie, Weingarten
2011 Written Room, Fondazione Merz, Turin
2010 He Kills Me, He Kills Me Not, Verso Arte Contemporanea, Turin
         Parastou Forouhar, Leighton House Museum, London
         Parastou Forouhar at RH Gallery, NY
2009 Parastou Forouhar in Galerie Karin Sachs, München
         Ich Ergebe Mich, Azad Galerie Teheran
         Links of Violnce, Orgel Fabrik, Karlsruhe
2008 Parade, Kunsthalle Vierseithof, Lückenwalde
         Bodyletter, Eugen Gutmann Haus, Berlin
2007 Just A Minute, Fondazione Pastificio Cerere, Rom
2006 Blind Spot, Galerie Karin Sachs, München
2005 Parastou Forouhar in Deutschen Dom, Berlin
         Spielmannszüge, Forum im Dominikanerkloster, Frankfurt
         Spielmannszüge, Saarland Künstlerhaus, Saarbrücken
2004 Schilder, Einstein Forum, Potsdam
         Sprache des Ornaments, Stadtmuseum im Spital, Crailsheim
2003 Tausendundein Tag, Nationalgalerie in Hamburger Bahnhof, Berlin
2002 Schuhe ausziehen, Ausstellungsraum de Ligt, Frankfurt a.M.
         Blind Spot, Ausstellungshalle Schulstrasse 1A, Frankfurt a.M.
         Blind Spot, Golestan Art Gallery, Teheran (wurde verboten)
2001 Blind Spot, Stavanger Kulturhaus, Stavanger
Gruppenausstellungen – Auswahl
2023 Warum gibt es denn Kunst, wenn es doch Kriege gibt?, Ernst Bloch Zentrum
Felix Nussbaum und künstlerische Wiederstand heute, Felix Nussbaum Haus, Osnabrück
Frau, Leben, Freiheit, Saarland Museum – Moderne Galerie, Saarbrücken
2022 Protest! Gestalten, Museum Ulm
The other Kabul; Remains of the Garden, Kunstmuseum Thun
Musterung; Pop und Politik in der zeitgenössischen Textilkunst, Kunstmuseum Ravensburg
Decapitalize Humanity, Deutscher Künstlerbund, Berlin
2021 Reflections; contamporary art of the Middle East and Nort Africa, British Museum
2020 Körper, Blicke, Macht, Kunsthalle Baden Baden
Wände I Walls, Kunstmuseum Stuttgart
2019 100 Jahre Frauenwahlrecht, Deutscher Bundestag, Berlin
2018 Bild Macht Religion, Kunstmuseum Bochum
Language is the only Homeland, Nest, Den Haag
Waste Lands, Casa Arabe, Madrid
4. Mardin Biennale
Line of Sight, MUDAC, Lausanne
2017 Lettres ouvertes, de la calligraphie au street art, Institut des Cultures d'Islam, Paris
The True Stories – Art Works for Change, Patan Museum, Kathmandu
Disturbance, Kunsthalle der Sparkasse Leipzig
Ostrale. 11. Biennale für zeitgenössiche Kunst, Dresden
Rebel, Jester, Mystic, Poet: Contemporary Persians, Aga Khan Museum,   Toronto / Museum of Fine Arts, Houston
Waste Lands, San Telmo Museoa, San Sebastian
The Art of Joy, MANIF D'ART/8 – The Québec City Biennial, Québec
2016 Grün stört, Marta Herford Museum für Kunst, Architektur, Design, Herford
         Restrictions of the Earth, Karsi Sanat, Istanbul
2015 Agoraphobia, Azad Art Gallery, Teheran
         Magie und Macht, Marta Herford Museum, Herford
Common Grounds, Museum Villa Stuck, München
2014 Ornamental Structures, Kunstverein Worms
         Carte Blanche to Nil Yalter, Galerist, Istanbul
         The Art of Life, Uppsala Konstmuseum, Uppsala
         Recalling The Future, Brunei Gallery in SOAS, London
2013 Das Muster, das verbindet, Kunsthalle Lingen
         Sehnsucht Persien, Museum Rietberg, Zürich
         Mein lieber Schwan, ACC Galerie, Weimar
         7th Göteborg International Biennial for Contemporary Art
        Conflicts, Herzliya Museum of Contemporary Art, Herzlia
        Freie Sicht, Nassauischer Kunstverein Wiesbaden
        The Fold, CAB Contemporary Art, Brüssel
        The 4th Thessaloniki Biennale of Contemporary Art
        The 5th Moscow Biennale of Contemporary Art
2012 7th Asia Pacific Triennal of Contemporary Art, Brisbane
         Fertile Crescent, Princeton University Art Museum, New Jersey
         Feminist and …, Mattress Factory Museum, Pittsburgh
         The Elephant in the Dark, Devi Art Foundation, Delhi
         Töten, Kunstpalais, Erlangen
2011 Medi(t)ation, 3th Asian Art Biennial, Taiwan Museum of Fine Arts, Taichung
         Ornamental Structures, Stadtgalerie Saarbrücken
         Political Patterns, ifa-Galerie, Berlin und Stuttgart
         ZENDEGI, Beirut Exhibition Center, Beirut
2010 Nagsh and Raghsh, Museum of Islamic Civilization, Sharjah
         Veiled Memoirs, XIV Biennale Donna, Ferrara
         Krieg / Individuum, Kunsthalle Münster
         21st Century, Queensland Art Gallery & Gallery of Modern Art, Brisbane
2009 Die Macht Des Ornaments, Belvedere, Wien
         Traum und Wirklichkeit, Zentrum Paul Klee, Bern
         In Istanbul, BM Contemporary Art Center, Istanbul
         Rebelle, Museum für Moderene Kunst, Arnehm
         TASWIR, Martin Gropius Bau, Berlin
         Incheon Women Artists' Biennale
2008 Mahrem, Kunsthalle Wien / Tanas, Berlin
         Re-Imagining Asia, Haus der Kulturen der Welt, Berlin
         Vote for Women, Kunst Meran, Merano
         Naqsh, Pergamon Museum, Berlin
2007 Global Feminisms, Brooklyn Museum, NY
         Retracing Territories, Kunsthalle Fribourg
         Gestalte – Design Medien Kunst, Museum für Angewandte Kunst, Frankfurt
         Mahrem, Santral Istanbul, Istanbul
2006 Eastern Expressway, Evangelische Stadtakademie, Frankfurt
         Das kritische Auge, Neuer Kunstverein Aschaffenburg
         Hannah Ahrendt Denkraum, ehemalige jüdische Mädchenschule, Berlin
2005 Intersections, Jüdisches Museum Melbourne/ Jüdisches Museum
2004 Gabriele Münter Preis, Martin-Gropius-Bau, Berlin/ Frauenmuseum, Bonn
         entfernte Nähe, Haus der Kulturen der Welt, Berlin
         Die Zehn Gebote, Deutsche Hygiene Museum, Dresden
         Zeitzonen/3.Triennale zeitgenössischer Kunst Oberschwaben, Weingarten
        4. Busan Biennale, Busan, Süd Korea
2003 M_ARS – Kunst und Krieg, Neue Galerie Graz
         Gæstebud – Feast/Hospitality, Århus
         Bellisima, Galerie der Kunsthochshule Leipzig
         Zan-e-irani, Frauenmuseum, Bonn
2002 Die Quelle als Inspiration, Franckesche Stiftung, Halle
2001 2. Berlin Biennale, Berlin
         Frankfurter Kreuz, Schirn Kunsthalle, Frankfurt 
         Szenenwechsel XIX, Museum für Moderne Kunst, Frankfurt
         Wegziehen, Frauenmuseum, Bonn
Merken
Merken
Merken
Merken